Artists, Sarah and Josh Palmeri will activate City Park's Lily Pond
 "COLOR FIELD at the LILY PONDS" PROJECT

Denver Arts & Venues has announced their 2019-2020 "P.S. You Are Here" funded projects. These projects are designed to revitalize neighborhoods through collaborative and community-led outdoor experiences. CPFAN is one of the eleven grantees. Our project, "Color Field at the Lily Pond," (Color Field) was created and will be executed  by Denver artists and City Park enthusiasts, Sarah and Josh Palmeri. The project has also received funding from the Denver Museum of Nature and Science.
Color Field will draw attention to the historic Lily Pond that lies deserted for now southwest of the Denver Museum of Nature and Science. Denver city records from 1917 show that the Sediment Pond in City Park was "constructed as a man-made work of art inspired by Monet's composition of still water, weeping willows, and lily pads."  Later, in 1925, the DeBoer Canyon and Lily Pond were incorporated and designed by famed Denver landscape architect, Saco DeBoer, creating a unique, romantic attraction for Denverites. In 1970, a severe storm flooded the area, and the pond has since been waterless (with one exception) with the sandstone seedbed walls exposed.
In Color Field, visual artists Sarah and Josh Palmeri will activate the Lily Pond space thorough a colorful, site-specific art installation of roughly 10,000 painted gardening stakes in the seedbeds of the drained pond. The six uniquely shaped seedbeds will transform into abstract forms of lenticular colors, bringing attention to this underutilized area of City Park. The installation aims to recall the history and beauty of the pond area while building momentum for current plans to restore the historic area. Restoring the Lily Pond as well as the DeBoer Canyon and Waterway are recommendations of the updated City Park Master Plan.
The artists will connect Monet's influence on City Park with Color Field's display in the spring following the 2019-20 Monet exhibition at the Denver Art Museum. The community will be invited to participate in various volunteer days, where neighborhood residents and park visitors will paint and install this work alongside the artists at the Lily Pond site.  The artists hope to activate the space over the five month display period through various partnerships with museums, schools, and local businesses. The success of the project will be measured by an increased number of Denver residents that are aware of the historic ponds, increased use of this area of City Park as envisioned by City Park Master Plan, and ultimately, the full restoration of the space and broad community support.
Panayoti Kelaidis, Senior Curator and Director of Outreach at Denver Botanic Gardens will kick off our Color Field Campaign on February 4 at CPFAN's regular meeting at Messiah Community Church, 1750 Colorado Blvd, from 6-8 pm. Details about this exciting program will follow!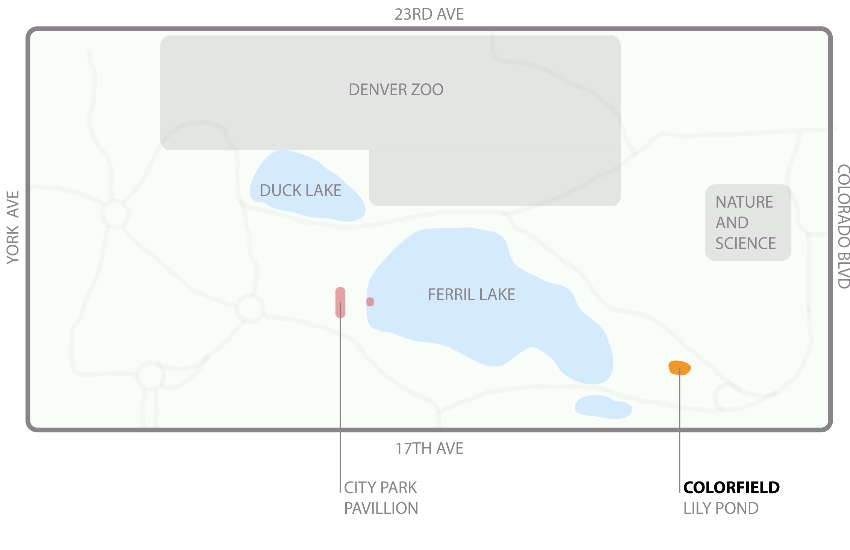 1,260 total views, 1 views today